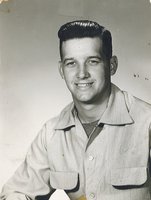 Robert Malcolm Thomas
Robert Malcolm Thomas 84 of Alvin Texas passed away Saturday September 30, 2017 at the Parkview Nursing and Rehab Center in Pikeville, KY following a brief illness.
Robert was born Feb. 1, 1933 at Charleston, WV, the son of the late Roland and Stacy Coffman Thomas. He was a retired design engineer for the mission control team of NASA and a United States Korean War Marine Veteran.
Survivors include two daughters Susan Orsak of Catlettsburg, KY and Mary Kate Sloan of Richmond, TX; three sons Ralph Thomas of Wimberly, TX, Robert M. Thomas II of San Diego, CA, and Carl Fredrick Thomas of Alvin, TX; sixteen grandchildren and nine great grandchildren.
A memorial service will be held at a later date in Confederate Cemetery Alvin, Texas.
Care has been entrusted to Wilson Funeral Home.