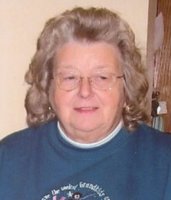 Glenda S. Preston
Glenda S. Preston, 73, of Louisa, KY passed away Sunday, January 21, 2018 at Kings Daughters Medical Center. Mrs. Preston was born August 7, 1944 in West Liberty, KY to the late Mayoma Lemaster.
She is survived by her husband: Ira Preston, JR, two sons: Ira Lee Preston of Louisa, KY and Eric Preston of Louisa, KY, and one brother: Darrell Lemaster of Nancy, KY; She also has four grandchildren, Paige, Benjamin, Brody, and Meagan, and three great grandchildren, Conner, Aubrey, and Owen.
Mrs. Preston was a retired Lawrence Elementary School Cook and a member of Favorite United Baptist Church.
Funeral services will be conducted at 2pm on Friday, January 26 at Wilson Funeral Home with Elders Bobby Mollette, Clarence Thompson & A.J. Williams officiating. Burial will follow in Preston Cemetery at Tadpole, KY. Friends may visit the family on Thursday, January 25 from 6-9pm at Wilson Funeral Home. Care has been entrusted to Wilson Funeral Home.