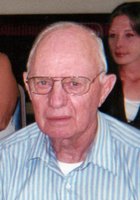 Eulas P. Salyer
Eulas P. Salyer, 90, of Louisa, KY passed away Monday, January 22, 2018 at J.J. Jordan Geriatric Center. Mr. Salyer was born December 6, 1927 in Flat Gap, KY to the late Ras and Vernie Salyer. In addition to his parents he was preceded in death by his wife Northa Fay Salyer, one daughter Connie Caudill, and two brothers, Emerson and Billy Allen Salyer.
He is survived by one daughter, Brenetta Fitch of Louisa, KY and several church friends. Mr. Salyer was a member of Old Path Church in Blaine, KY, a U.S. Army veteran having served during World War II, and a retired mechanic.
Funeral services will be conducted at 11am on Friday, January 26 at Wilson Funeral Home with Rev. Jimmy Oborne & Pastor Todd Webb officiating. Burial will follow in the Salyer Cemetery at Flat Gap. Friends may visit the family on Friday, January 26 from 09am until the time of services at Wilson Funeral Home. Care has been entrusted to Wilson Funeral Home.
.