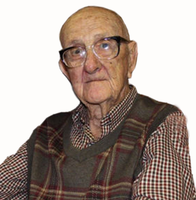 M. J. Cordle, Jr.
M.J. Cordle, Jr. (Uncle June) age 96, passed away Tuesday, January 23, 2018, at the home of his niece Miranda Cordle Napier and her husband Willis Napier, who had been caring for him since early January.
Uncle Junior was born on January 12, 1922 at Blaine, in Lawrence County, Kentucky, to Milton J Cordle & Polly Mandy Bishop Cordle. He was the eldest of three brothers born to them. Charles H. Cordle of Cordell, who preceded him in death in 2015 and Edwin Cordle, who died at childbirth in 1932.
Uncle Junior attended one-room schools both at Tarkhill and Rocky Point, and High School at Blaine.
He was a decorated WW2 veteran, spending 2 years in Europe as a member of the Mighty 8th Air Force's 351th bomb group, a B-17 squadron, attaining the rank of Sargent.
He volunteered, along with thousands of other brave men and women of the greatest generation, to fight the Godless forces of Adolph Hitler, whose intent was to enslave and oppress all of Europe and even the United States of America. We owe him and them, so much.
Honorably discharged, after the war in Europe ended, he returned to his Raccoon branch home, attended and graduated from, Mayo Vocational School, at Paintsville, Kentucky.
Trained as a machinist but finding nothing that suited him job wise, he grew restless and finally re-entered the Air Force, pulling yet another stint in the military. All told, counting the war years, he spent a total of 8 years, proudly serving our country.
After his re-enlistment ended, in 1950, he returned home to Kentucky.
On Christmas Day of 1954, Uncle June married the love of his life and childhood sweetheart, Dixie Mae Wells Cordle. He was devoted to her and she to him, until her death in 2008.
Working at various jobs, he finally found his niche working with his father-in-law Sam Wells and brother-in-law Charles Wells and becoming a good carpenter. In demand because of his skill at his craft, he worked at that vocation with different partners in and around mostly Lawrence and Johnson County, Kentucky, until he retired in the late 1980's.
He was an avid outdoorsman. He loved fishing, hunting, trapping and digging sang. As long as he was able, there was no place he'd rather be, than in the woods or in the creek.
He was a crack shot.
He loved hearing his foxhounds run.
He was a great story teller, and had an uncanny knack for remembering peoples names and past events in remarkable detail. His mind remained sharp, right up till the end of his life.
Though hard of hearing later in life he once said, "There are 3 sounds that can't be beat. The sound of a good hot Baptist meetin', the lonesome sound of a mourning dove, and a good fiddle, with a man who knows how to pull a bow".
Junior was a member and Past Master of Jake Rice Masonic Lodge #606 at Blaine Kentucky. He also served many years as secretary of the Lodge. He was a 70… plus…year Mason.
He was additionally a member, and past Worthy Patron, of The Order of the Eastern Star, Chapter #202, at Blaine, and a Royal Arch Mason.
Uncle June was a member of the Cordell Freewill Baptist Church on Brushy, where he was serving as the churches' eldest deacon, at the time of his death. He was a strong Christian man who loved his Savior, his family and his neighbors.
Uncle June possessed an iron will to live out his life, at the old home place on Raccoon; and, due to the love and kindheartedness of his closest neighbors, specifically, Lawrence Cordle's family & Larry Hackney's family, each who lived close by, he was able to live and keep his independence, for the last several years of his life.
Last summer he trimmed the hedge around his yard by himself. More recently he was able to drive over to Brushy, to have what would be our last Thanksgiving dinner together. It was a blessed day, with nearly all of his tree, of the surviving Cordle family there.
He was as independent as a hog on ice and tough as nails till the end.
Uncle Junior is survived by Sister-in-laws, Nora Wells of Louisa, Kentucky & Freda Wells of Blaine, Kentucky; Nieces, Lynnette Wells Bragg (Randy) Springfield, Georgia; Nancy Wells Collins (Jerry) Springfield, Georgia; Judy Wells Barber (Mike) Gillette, Wyoming; Teresa Galliher (Greg), College Station, Texas; Brenda Jarchow, Virginia Beach, Virginia; Stacey Mckenzie (Robert) Winchester, Kentucky and Miranda Cordle Napier (Willis) Ft. Gay, West Virginia; Nephews, Sammy Crum, Virginia Beach, Virginia; Shane Wilson, Virginia Beach, Virginia; John Wells (Lavada) Avon, Indiana; Bob Wells (Cathi) Louisa, Kentucky; Keith Wells (Linda) Blaine, Kentucky; Paul Wells (Shirla) Louisa, Kentucky and Larry Cordle (Wanda), of Hendersonville, Tennessee.
Many great-nieces and nephews,
and a host of cousins, friends and neighbors.
Thank God for this man and the example he left for us to follow.
He will be greatly missed by all who knew and loved him.
The family will welcome visitors at The Wilson Funeral Home, 1270 KY-2565 Louisa, KY from 5 to 9 PM Saturday January 27, 2018.
Funeral services will be held at The Cordell Freewill Baptist Church, at Blaine, KY on Sunday January 28, 2018, at 11:00 AM, with the Reverends Roger Jordan, Luther Dingus & Bondi Salyer officiating.
Following full masonic and military honors he will be interred beside his bride, at the Bryant/Cordle Cemetery on Brushy Creek, at Blaine, Kentuck