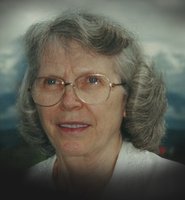 Evelyn Marie Lambert
Evelyn Marie Lambert was born April 30th 1932 in Hamburg, Pa. and fell asleep in death at home on December 14TH 2019 in Louisa, Kentucky.
Evelyn was preceded in death by her late husband James Edgel Lambert. She is survived by her only child, Dale A. Lambert, his wife Lola L. Lambert and Evelyn's only grandchild, Abby Clarice and her husband Anthony Stauder. A highlight in Evelyn's life was the birth of her only grandchild, Abby and seeing her mature into a talented young woman.
Evelyn was the daughter of the late Bertus V. and Sally Esther (Seamen) Shollenberger. Evelyn was one of nine children. She was preceded in death by her sisters Myrlie Heffner and Arline Pfeifly, and brothers Larry Shollenberger and his wife Mary Jane and Mervin Shollenberger. Evelyn is survived by two brothers Clair Shollenberger and his wife Doris of Hamburg, Pa., George Shollenberger and wife Joan of Bethel, Pa., and two sisters, Shirley and her husband Merlin Belton of Hamburg, Pa. and Marilyn Shollenberger of Hamburg, Pa. and her sister-in-law Alice, the wife of Mervin Shollenberger. In addition she is survived by numerous nieces and nephews and their families.
Evelyn married James Edgel Lambert, on December 24, 1951 in Oakland, Maryland. They resided together in Berks County Pennsylvania, where they first met, until July 23rd 2011, when her partner and friend of 59 years and 7 months, fell asleep in death at their residence in Kutztown, Pennsylvania.
Evelyn came to have a close relationship with her creator, Jehovah and symbolized her dedication to serve him forever by means of water baptism on November 9, 1952. She served her creator and God, faithfully for 67 years. Over those years she enjoyed helping others by visiting them in their homes accompanying her husband "Jim", conducting Bible studies with others. They enjoyed many days spending time with their many spiritual children, including Kevin, Angie and Wesley Blatt.
Jim & Evelyn were known to be very generous, hospitable and to have guests stay in their home. They were well known for visiting the sick, elderly and those in Berks Heim, sharing with them encouragement from God's word the Bible. Evelyn continued this work, often times with the assistance of Bonnie and Ethel DeLong, until Evelyn's health made it impossible to continue.
Evelyn loved working in her flowers, (red roses and wisteria were her favorites), cooking, doing laundry and eating a variety of chocolate candies. In the spring of 2014 she moved to Kentucky so she could be closer to her children where her daughter-in-law, Lola would be able to look after her needs and comfort. Evelyn became fond of the family dog a dachshund, named Heisse, and a cat named Candy. She enjoyed watching the birds and squirrels out her bedroom window..
Evelyn had the privilege of tasting the true "brotherhood" that exists among Jehovah's people. From attending large momentous conventions such as Yankee Stadium in 1958, where the were over 253,000 assembled at Yankee Stadium and the Polo Grounds in New York City to attend international conventions in over 8 other countries including Russia, Switzerland, Kenya and Chile, to name a few. Due to their travels they made many friends all around the globe. Of all the countries Evelyn traveled to, Switzerland was her favorite spot.
Between doing volunteer work on disaster relief, Branch facilities, Assembly Halls and Kingdom Halls for Jehovah's Witnesses and just visiting other countries, Evelyn was privileged to visit about 30 countries and islands.
Evelyn lived a full and rewarding life. She now is in Jehovah's memory,
awaiting the day that he awakens her from sleep.
(Job 14:13-15)
All care has been entrusted to:
Wilson Funeral Home
1270 Highway 2565
Louisa, KY 41230
A viewing will be held at the Wilson Funeral Home: Monday, December 16, 2019,
From 6:00 p.m. till 9:00 p.m.
All friends and family are welcome.
<><>
All final arrangements will take place in Pennsylvania.
Final Services will be held at the Leibensperger Funeral Home, Inc.
65 S. Fourth Street
Hamburg, PA 19526
Viewing: Saturday, December 21, 2019 from 10:00 a.m. till 1:00 p.m.
Funeral Discourse: Saturday, December 21, 2019 at 1:00 p.m.
Speaker: Kevin Blatt
Followed by a Graveside Service at:
Hope Cemetery
234 Church Road
Kutztown, Pa. 41230
All Friends and Guests are invited to share a meal at Hummel's Restaurant after the graveside service.
28 Willow Street, Lenhartsville, Pa. 19534a