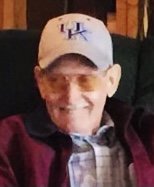 Billy Don Shannon
Billy Don Shannon, 83, of Louisa, KY passed away Saturday, January 2, 2021 at Three Rivers Medical Center. Mr. Shannon was born January 20, 1937 in Louisa, Kentucky to the late Riley and Gladys Childers Shannon. In addition to his parents, he was preceded in death by his wife, Geraldine Lemaster Shannon and one brother, Willis "Hap" Shannon.
He is survived by one son, James (Wendy) Shannon; one sister, Laura Lou Shannon; one granddaughter, Sara Shannon; one grandson, Connor Shannon; two nieces, Glenda (Tony) Cole and Karen (Brian) Coleman, two great nephews, Caleb Cole and Christopher Coleman; two great nieces, Alex Cole and Shannon (William) Chapman; and his companion, Linda Burchfield & family.
He was a Well Tender for Mid West Well Service.
Funeral services will be conducted at 1 PM on Wednesday, January 6, 2021 at Wilson Funeral Home with Rev. Vinny Vanhoose officiating. Burial will follow in the Childers Cemetery. Friends may visit the family on Wednesday, January 6 from 11 AM until the time of services at Wilson Funeral Home. All care has been entrusted to Wilson Funeral Home.