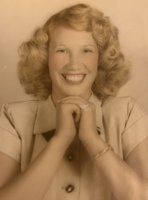 Gretchen L. Childers
Gretchen L. Childers, 91, of Staffordsville, KY passed away Sunday, January 3, 2021 at Paul B. Hall Medical Center. Mrs. Childers was born July 23, 1929 in Tadpole, Kentucky to the late Garfield and Millie Lou Thompson Scarberry. In addition to her parents, she was preceded in death by her husband, Lloyd Childers, one son, Lloyd Childers, Jr., one sister, Lillian Rowe, and three brothers, Ed Scarberry, Scott Scarberry, and Kenneth Scarberry.
She is survived by one brother, John Scarberry; three sisters, Ruby Price, Bonnie Sue Blackshire, and Bess Rowe; and one grandson, Alden Childers, a daughter-in-law Becky Childers, she also leaves behind a host of nieces and nephews.
She was a Merchant and a charter member of Emmanuel Baptist Church.
Funeral services will be conducted at 1 PM on Thursday, January 7, 2021 at Wilson Funeral Home with Dr. Charles Price and Rev. Chuck Price officiating. Friends may visit the family on Thursday, January 7 from noon until the time of services at Wilson Funeral Home. All care has been entrusted to Wilson Funeral Home.