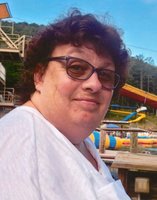 Patricia Anne Napier
Patricia Anne Napier, 51, of Louisa, KY passed away Wednesday, January 6, 2021. Napier was born May 5, 1969 in Chicago, Illinois to the late William and Sarah Ross.
She is survived by her husband, James Napier; one son, Jess Napier; one daughter, Sarah Napier; and three sisters, Vicki Merry, Janice Blessing, and Stacy Hogland.
She was a Homemaker.
Funeral services will be conducted at 2 PM on Saturday, January 9, 2021 at Wilson Funeral Home with Rev. Keith Daniels officiating. Burial will follow in the McGinnis Cemetery. Friends may visit the family on Saturday, January 9, from 11 AM at Wilson Funeral Home. All care has been entrusted to Wilson Funeral Home.