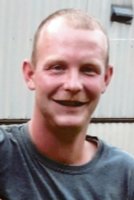 James Austin Ratliff
James Austin Ratliff, 27, of Fort Gay, WV passed away Wednesday, January 6, 2021. Austin was born September 5, 1993 in Huntington, West Virginia to the late James Wallace Peck, Jr. and Mortisha Ratliff.
He is survived by his mother Mortisha (Ratliff) Pack; his stepfather, Dennis Ray Pack; one brother, Jesse Arlin Ratliff; his paternal grandmother, Helen Marcum; three uncles, Keith Gartin, George Ratliff, and Luke Peck; and four aunts, Tammy Adkins, Joann Adkins, Martha Bowen, and Jessica Peck.
He was a Production Worker.
Funeral services will be conducted at 1 PM on Saturday, January 16, 2021 at Wilson Funeral Home with Rev. Randy Smith officiating. Burial will follow in the Frasher Cemetery. Friends may visit the family on Friday, January 15 from 6-9 PM at Wilson Funeral Home. All care has been entrusted to Wilson Funeral Home.