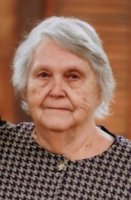 Anna Jo Fyffe
Anna Jo Fyffe, 79, of Louisa, KY went home to be with the Lord at her residence on January 15, 2021. Anna was born on March 8, 1941 to the late C.C. Wheeler, Jr. and Hermal Sparks Wheeler. In addition to her parents, she was preceded in death by her husband, Gale Dean Fyffe, granddaughter, Megan Fyffe, and brother, Tim Wheeler.
She is survived by her daughter, Vivian Kay Fyffe; a son, Jason (Beverly) Fyffe; two grandsons, Jase and Payton Fyffe; three granddaughters, Kaylee, Kelsey, and Kensley Mills; and one sister, Sandra (Jim) Stansbury of Louisa, KY.
Anna was a retired social worker. She loved spending her time cooking for her grandchildren, working puzzles, and gardening.
Private services will be held for immediate family only. All care has been entrusted to Wilson Funeral Home.