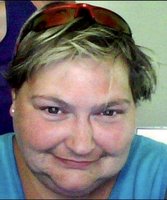 Barbara Ann Kaplonski
Barbara Ann Kaplonski, 55, of Louisa, KY passed away Friday, May 21, 2021. Mrs. Kaplonski was born May 24, 1965 in Belleview, NJ to the late George Steven and Nancy Johnston Kaplonski.
She is survived by her spouse, Martha Burton; four brothers, Steven Kaplonbski, Edward Kaplonski, Josh Kaplonski, Jeremy Kaplonski; one sister-in-law, Peggy Kaplonski; and one uncle, David (Ellen) Johnston
She was a Homemaker.
A memorial service will be conducted at 2PM on Saturday, May 29, 2021 at Wilson Funeral Home . All care has been entrusted to Wilson Funeral Home.