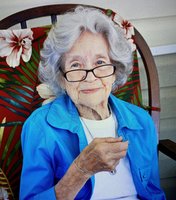 Juanita (Kelly) Blevins
Juanita (Kelly) Blevins, 94, of Webbvile, KY passed away Sunday, June 27, 2021. Mrs. Blevins was born October 3, 1926 in Cherokee, KY to the late Emory and Alma Blevins Kelly. In addition to her parents, she was preceded in death by her husband, Farrell Blevins, one grandchild, Allison Martin, one great-grandchild, two sisters, and one brother.
She is survived by two sons, Thomas (Pat) Blevins and Henry Blevins; four daughters, Connie Sammons, Matilda (Joe) Hewlett, Diane (Bob) Martin, and Charlene (Bob) Williams; two brothers; twelve grandchildren, Lee Sammons, Chad Williams, Ben Blevins, Crystal Buchanan, Kelli Dixon, Adam Blevins, Daniel Blevins, Alisha Hewlett Workman, Steven Blevins, Chris Martin, Janelle Tomes, Nathan Martin, and twenty-one great-grandchildren.
She was a homemaker that loved to help the people of her community. She loved to garden and anything that had to do with farming. She also loved to cook. She was hardworking and tough, she loved country music and especially, Ricky Skaggs and Kenny Rogers.
Funeral services will be conducted at 1PM on Wednesday, June 30, 2021 at Wilson Funeral Home with Pastor David Boggs officiating. Burial will follow in Yatesville Memorial Gardens. Friends may visit the family on Wednesday, June 30 from 11AM until the time of services at Wilson Funeral Home. All care has been entrusted to Wilson Funeral Home.