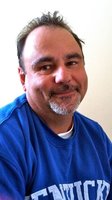 William Albert Elkins III
William A. "Billy" Elkins III, passed away Wednesday, June 30, 2021 in Ashland, KY. He was born November 12, 1963 in Louisa, KY to William A. Elkins, Jr. and Clara Jones Elkins.
A Memorial Service will be at a later date.
Wilson Funeral Home in Louisa, KY are in charge of arrangements. In Lieu of flowers, memorials may be sent to Louisa United Methodist Church Building Fund, P.O. Box 26, Louisa, KY 41230.