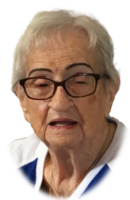 Pauline Wheeler
Pauline Wheeler, 98,from Ashland, Kentucky passed away peacefully at home on January 4th in Ashland Kentucky with her daughter and son in law by her side.
Born on September 29th, 1923 in Waynesboro Kentucky to the late Coy Phillips and Sarah Slone Phillips.
Married to Leonard Wheeler who preceeded her in death.
She had four brothers that preceeded her in death
Charles Phillips, Conley Phillips, Lester Phillips, and Carl Phillips.
She has three sisters. Evelyn Everman who proceeded her in death. Norma Wiler of Ashland Kentucky and Christine Boggs of Grayson Kentucky.
She had two children, Bill Wheeler (Billie Ann Cole Wheeler) and Linda Sue Hayner (Jim).
Four Grand Children: Steven Wheeler (Lyn) in Grove City, Ohio, Billy Ray Wheeler Jr. who proceeded her in death, Trina Davies in Georgetown Kentucky, Chris Hayner (Amy) in Richmond Kentucky.
Six Great Grand Children. Jessica Comstock, Sara Wheeler and Lauren Wheeler in Georgetown Kentucky, Dylan Davies and Curt Davies in Georgetown Kentucky and Brady Hayner in Richmond Kentucky.
One Great Great Granddaughter Hazel Comstock in Georgetown Kentucky.
Two grand dogs Jackie and Emme Lou who she loved dearly and gave her comfort and joy.
Two special caregivers, Eamme Ebcas from Grove City Ohio and Debbie Blair from Catlettsburg Kentucky. She also has many nieces and nephews she loved dearly
She was taken care of by a dedicated and caring group of nurses from Ashland Community Hospice.
She will be laid to rest beside her husband of 66 years in Sparks Cemetery in Blaine Kentucky. With her nephews Eddie Wiler and Proctor Boggs performing her funeral.
Funeral services will be conducted on Wednesday, January 12 at 1pm at Wilson Funeral Home. Friends may visit the family from 11am until the time of services on Wednesday, January 12, at the Wilson Funeral Home. All care has been entrusted to Wilson Funeral Home.