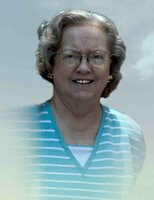 Lavonne Muncy
Lavonne Cordle Muncy, 84, of Roanoke, AL passed away Thursday, May 12, 2022. Muncy was born October 24, 1937, in Louisa, Kentucky to the late Cyrus and Cinda Castle Cordle.
She is survived by one son, Michael (Marie) Muncy; one daughter, Teresa (Andrew) Leslie; three brothers, Ronald Cordle, Donald Cordle, Alan Steele; one sister, Jayne Steele; two grandsons, Ethan Leslie and Logan Leslie.
She was a homemaker.
Funeral services will be conducted at 1 PM on Friday, May 20, 2022, at Wilson Funeral Home in Louisa, KY with Rev. Doug Kelly officiating. Burial will follow in the Cyrus Cemetery. Friends may visit the family on Friday, May 20 from 11 AM tuntil the time of services at the Wilson Funeral Home. All care has been entrusted to Wilson Funeral Home.