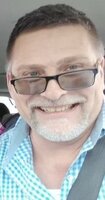 James Everett Bryant
James Everett Bryant, 52, of Louisa, KY passed away Monday, May 16, 2022. Bryant was born September 19, 1954, in Monroe, Michigan to the late James Everett Bryant and Hazel Laney Adkins.
He is survived by his mother, Hazel (Dock) Adkins; two sons, Julius Bryant and Nicholas Stepp; a daughter Julysa James Bryant; his Fiance' Jocelyn Pikard; and a brother, Junior C. Johnson.
He was a Laborer.
A graveside service will be conducted at 1:00 PM on Monday, May 23, 2A022, at Dock Adkins Cemetery with Rev. Cecil Ferguson. All care has been entrusted to Wilson Funeral Home.