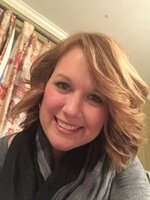 Shawna Diane Jenks
Shawna Diane Jenks 42 of Louisa, KY passed away July 8, 2022, following a sudden illness.
Shawna was born September 3, 1979, at Louisa, KY, the daughter of Roger Dean and Carolyn Hope Branham Bevins. She was a Finance Supervisor with the Addiction Recovery and a member of the Bethel House of God.
Survivors include her husband, Brett Jenks; children Kailey Jenks, Avery Cecil Jenks, and Parker Jenks; her parents Dean and Hope Bevins; and her brother Chris Bevins and wife Willa.
A Celebration of Life will be held on Wednesday July 13th at 1:00 pm at the Wilson Funeral Home with Rev. Bobby Workman, Bro. Jesse Hylton, and Bro. Bretton Martin officiating. Friends may visit the family on Tuesday July 12th from 6:00 pm to 8:00 pm at the Wilson Funeral Home.
Care has been entrusted to Wilson Funeral Home.