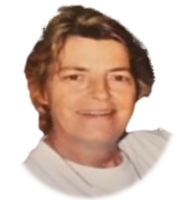 Linda Lou Pack
Linda Lou Pack, 73, of Louisa, KY passed away Tuesday, July 26, 2022, at the Emogene Dolin Jones Hospice House. Ms. Pack was born July 10, 1949, in Louisa, Kentucky to the late Ace and Eliza Marcum Pack. In addition to her parents, she was preceded in death by five brothers, Freelin Pack, Ova Pack, Harlan Pack, Arthur Pack, and Glen Pack, and three sisters, Shelvie Crum, Rhoda Pack, and Wanda Hanshaw.
She is survived by two brothers, Ted (Margaret) Pack and Melvin Pack; and one sister, Bertha (Jess) Savage.
She was a Factory Worker.
Funeral services will be conducted at 1:00 PM on Friday, July 29, 2022, at Wilson Funeral Home with Rev. Bobby Joe Workman officiating. Burial will follow in the Yates-Benard Cemetery. Friends may visit the family on Friday, July 29 from Noon until the time of services at the Wilson Funeral Home. All care has been entrusted to Wilson Funeral Home.