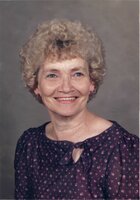 Wanda Miller Hayes
Wanda Miller Hayes 90 went to her heavenly home on Sunday November 20, 2022, passing peacefully at
home after an extended illness. Wanda was a faithful woman who was devoted to God, her family, and
her church.
Wanda was born June 16, 1932, at Dennis, KY the daughter of the late Charles Darrell and Opal
Pinkerton Bradley. In addition to her parents, she is preceded in death by her first husband former
Louisa Mayor and businessman Thaddeus Miller and Dr. James A. Hayes former pastor of the Louisa Free
Will Baptist Church. She is also preceded in death by two sisters Phyllis Dotson and Laura Gray, a sister-in-
law Louise Bradley, and a stepson Jim Hayes.
Survivors include a daughter Nikki Nelson and husband Gary, three sons Thaddeus Michael Miller and
wife Carla, Rick Miller and wife Michelle, and James Edward Miller; Grandchildren Bradley J. (Valeria)
Nelson, Kristy (Ryan) Sammons, Thaddeus Jordan (Brooke) Miller, Nicholas Morgan Miller; Great
Grandchildren Abby Nelson, Jenna Sue Sammons, Brady Nelson, Hallee Preece, Lauren Kate Sammons,
Lincoln Carroll, Colt Miller; a sister Agnes (Jim Paul) Lyon; three brothers Charles Darrell Bradley, Tom (Jo
Anne) Bradley, and Steve (Barbara) Bradley; Step Daughter Priscilla Hayes; Step Son Bill (Cheri) Hayes;
Brother in Law Larry Dotson and Aunt Imogene.
Funeral services will be held on Wednesday November 23rd at 2:00 pm at the Louisa Free Will Baptist
Church with Pastor Bill Hayes and Pastor Cecil Ferguson officiating. Burial will follow in the Greenlawn
Cemetery. Friends may visit the family on Wednesday November 23rd from 10:00 am until time of
services at the Louisa Free Will Baptist Church.
Care has been entrusted to Wilson Funeral Home.