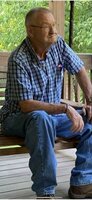 Freddie N. West
Freddie N. West, 76, of Louisa, KY passes away on Wednesday, March 15, 2023 following a brief illness. Freddie was born July 29, 1946 in Blaine, KY to the late North James and Sarah Belle (Lester) West. In addition to his parents, he is preceded in death by one son, Timothy West; three brothers, James Douglas West, Morton West, and Randal West; one sister, Barbara Sue Pack.
Freddie was a retired Heavy Equipment Operator and a Kentucky Colonel.
Survivors include two daughters, Janet Sue (Stephen) Wallin and Chelsea (Brock J'broculaus Sutton) West; two sons, Dwayne (Lisa) West and Mark (Dondra) West; one sister Clarice Ann Burgess; three brothers, Wayne West, Larry (Kathy) West and Noah (Betty) West; two granddaughters, Jenna (Dwayne) Bishop and Tristan (Tanner) Collie; two grandsons, Brandon (Ali) Stiegmann and Ashton West; one great-granddaughter, Elizabeth Stiegmann; two great-grandsons, Branton Rowe and Easton Stiegmann.
Funeral Services will be conducted on Friday, March 17, 2023 at 1:00 PM at Wilson Funeral Home in Louisa, KY with Rev. Keith Workman officiating. Burial will follow in the Yatesville Memorial Gardens. Friends may visit the family on Friday, March 17, 2023 from 12:00 PM until time of services.
All care for Freddie and his family has been entrusted to our family here at Wilson Funeral Home.